Bike Parking
Yale has a variety of parking areas for bikes on campus, both indoor and outdoor. Click here for a map of bike parking facilities on campus.
Parking at Train Stations: There is now a large sheltered bike parking area at Union Station. State Street Station has a bike rack at the main entrance.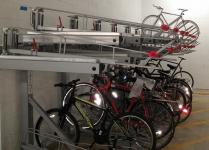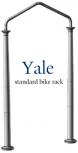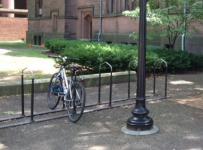 Bicycle Safety Training
Yale Environmental Health & Safety offers a one-hour Bicycle Safety Training course covering state and local laws pertaining to bicyclists, accident avoidance including common situations where accidents occur on roadways, and how to avoid them. It also includes bicycling tips, bicycle maintenance info, and the proper use and sizing of helmets. Participants will receive a free helmet upon completion of the course. Read more.
Yale Environmental Health & Safety offers additional safety tips, tools, and resources for cyclists, pedestrians, and motorists here.
Bicycle Theft Prevention and Registration
Lock (and Keep) Your Bike. Lock your bike as shown in the video below. Lock it at all times—and NEVER LOCK TO A STREET SIGN OR BANISTER, as they are easily removed.
Quick-release levers on your wheels and seat post invite theft. If possible, replace anything with a quick-release lever with permanent skewers/bolts (you can get a "seat leash" for your seat if you want to keep the quick-release so that its easily adjustable). If you do have quick-release wheels, take one wheel off and secure it to the other wheel, the frame, and the bike rack with your U-lock and/or very thick cable.
Register your bike! As a service to the University community, Yale Transportation Options registers bicycles owned by students, faculty, and staff members through the National Bike Registry. Bicycle registrations are valid for 10 years.
1) Locate your bike's serial number. You can't register your bike without it.
2) Fill out this form to begin the registration process. We will submit your form to the National Bike Registry and Yale Police Department.
3) We will email you when your bike has been registered. Once you have received this email, please come to the Office of Sustainability at 70 Whitney Avenue to pick up the stickers that correspond to your registration. They must be applied directly to your bike.
Consider purchasing low-cost property insurance.
If you believe your bike has been stolen, contact the Yale Police Department at 203-432-4400.