Map of bike rack locations on campus
Click here to see the locations of bike racks and showers on campus.
Benefits of Bicycling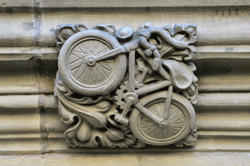 Yale commuters who ride a bike to work can:
navigate campus with ease, due to the city's size and relatively flat geography
park for free in front of every destination
be part of a thriving cyclist community
have more fun
log your trips in Nuride to earn restaurant coupons, local retailer discounts, and tickets to shows and attractions
Increasingly, more resources and infrastructure are being provided to support cyclists, both on campus and in the City of New Haven.
Shower Pass at the Payne Whitney Gym
You can use the showers at Payne Whitney Gym if you bike (or walk) to campus and need to clean up. Read through this agreement and sign it, then bring it to Payne Whitney Gym Membership Services in the main lobby.
New to Cycling?
Yale Environmental Health & Safety offers a Bicycle Safety Training Class that covers state and local laws pertaining to bicyclists, accident avoidance including common situations where accidents occur on roadways and how to avoid them. It will also include bicycling tips, bicycle maintenance info, and the proper use and sizing of helmets. 
The City of New Haven has a "Smart Cycling Handbook"which covers local and State rules and regulations, has maps, and provides other important information such as hand signals, bike gear, how to avoid an accident, bicycle maintenance, and more.
Elm City Cycling, a New Haven bike advocacy group, has created the Elm City Cycle Map that highlights bike paths, bike lanes, sharrows, and unmarked bike routes in New Haven.
If you're comfortable on a bike but are unsure of which route to take, visit the Commuter Counseling page to receive a suggested route. You can also use MapMyRide to create your own route and to find routes other cyclists have created.
Campus Proximity Map
Click the map to enlarge the view. If you live within the center circle you can walk to the center of Yale in 15 minutes. If you live within the outer circle, you can bike in 15 minutes. It is often faster and more predictable to walk or bike than to drive.
Bike to Work Breakfast
The third Friday of every month is the Bike (and Walk) to Work (and School) Day Breakfast from 7:30 - 9:30am
Get free breakfast and coffee, meet other cyclists, learn about best commuting routes, and catch up on the most recent developments in making greater New Haven more bike- and pedestrian-friendly.
The breakfasts are hosted on Pitkin Plaza outside the Devil's Gear Bike Shop at 151 Orange St.
For more information email elmcitycycling@gmail.com or visit the Elm City Cycling website.
Bike Buddies
Would you like to find a cycling partner or meet up for group rides? Check out the New Haven Bike Rides Facebook Group.
Need a Bike Rack?
Although Transportation Options has no funding to purchase or install racks, we do maintain a list of locations where racks are needed. Please email us if you would like to request a bike rack at a specific location or to share ideas about ways to make your campus cycling experience better.
People for Bikes

Make the world a better place to ride by signing the People for Bikes pledge. People for Bikes is an organization dedicated to improving the future of bicycling. 
Need to Report a Cycling Hazard?
Visit this innovative reporting tool developed by a New Haven resident:SeeClickFix. Use a google map application to report the location of potholes, broken glass or other road hazards and track progress on your report.
Elm City Cycling
New Haven's cycling community is largely organized around Elm City Cycling through organized group rides and bicycle advocacy.
There are multiple weekly group rides, such as the summertime Wednesday night "Ice Cream" Ride to local ice cream shops. Many of these rides leave from the New Haven Green. Additionally, many Elm City Cycling members are cooperatively engaged with local and state government for improved safety and infrastructure supports for cycling. Visit the Elm City Cycling website for upcoming events.
Bike Shops Nearby
Zane's Cycles  330 East Main Street, Branford, CT 06405  800.551.2453