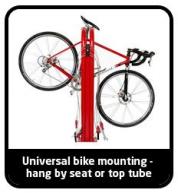 Use the new Bike Fixtation Public Work Stands to make simple bike repairs, such as tire inflation, while on campus. The self-service stations, made by Bike Fixtation, are equipped with basic maintenance tools such as an air pump, screwdrivers, wrenches, tire levers, and a hex key set. The upper part of the station allows for bikes to be hung by seat or top tube during repair. Scan the QR code on the stand to view repair instructions or go to bikefixtation.com/help.
Have you used one of the new bike repair stations?
Please provide your feedback here.
Locations:
School of Medicine, 333 Cedar Street: walking towards York Street from the main entrance of Sterling Hall of Medicine, on the right as you enter the covered area
Payne Whitney Gym, 70 Tower Parkway, to the right of the main doors
Divinity School, 409 Prospect Street: Behind the library & chapel, facing the park on St. Ronan Street
More locations coming soon!
School of Medicine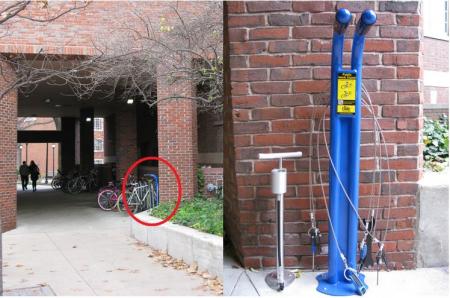 Payne Whitney Gym
Divinity School
In addition, the City of New Haven has installed bike self repair stations at the following locations:
Union Station, 50 Union Avenue
Ella B. Scantlebury Playground, off of the Farmington Canal Heritage Trail at Ashmun Street
Department of Parks, Recreation, and Trees Office, 720 Edgewood Avenue (corner of Edgewood and Yale)
East Rock College Woods Park Ranger Station, near the corner of Orange and Cold Spring Streets