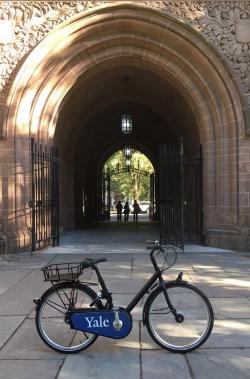 Yale University has partnered with Noa Technologies (Noa) to provide bikesharing to the campus community. Founded in 2012, Noa is an expert in transportation and fleet management solutions for large organizations. Noa uses a cloud-based fleet management software to provide real-time bike location, status, alerts, and analytics.
Yale students, faculty, and staff members can purchase a bikeshare membership once they have downloaded the Noa Rider App. The App allows users to unlock and lock their bike from a smartphone, which also tracks trips using GPS.
Pricing varies based on the type of membership. A single day (24 hours) costs $4.99. A monthly membership costs $9.99, a six-month plan is $29.99, and a yearly price plan is $49.99. With each membership type, you get unlimited free one-hour rides. After the first hour, there is a $3 charge per additional hour.
Bikeshare Resources
Take Yale Environmental Health & Safety's free Bicycle Safety Training course and receive a free helmet AND a free month of bikeshare (for the first 100 members)! Sign up for a class in here.
Stay up to date as the bikeshare program develops by signing up for periodic emails here.
Map of bikeshare stations: