Lou Rinaldi rides the Shore Line East from Guilford every morning. Although his commute takes a little under an hour compared to the thirty minutes it takes him when he drives from home, he prefers taking public transit to get to his Science Park office. "Other than the slightly longer commute, taking the Shore Line East is definitely much better," said Lou who works in the Academic IT Solutions unit of ITS.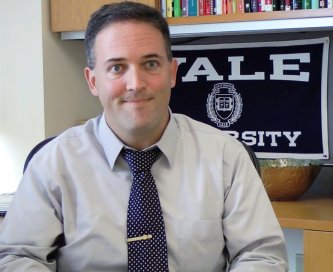 A Connecticut native, Lou grew up in a remote part of Cheshire–not having the autonomy of using a personal vehicle everyday was inconceivable. "My perception of what I consider to be a long walk has changed a lot, and that's a good thing."
When he started at Yale in 2003, Lou commuted by car from Wallingford, but that changed a few years ago when he moved to Guilford. "There are tradeoffs, but it so happens that commuting by train was a better deal," he said.
Initially, Lou switched to commuting via the Shore Line East because it was more affordable than commuting by car every day—especially when parking costs were taken into account. But eventually the routine of taking the train, and then walking from the New Haven State Street Station to his office became more pleasant than driving. "Having some time to yourself is very rare nowadays; during the commute when I walk from the station to work is a great way to get ready for the work week and decompress on my way back home," he says.
Lou also views the campus through a different lens, "Yale is a really beautiful place, you do not absorb all of the vibrancy when you drive from your garage at home to your garage at work." In the spring he says that he marvels at Hillhouse Avenue, "there really isn't anything like it." Hillhouse was described by famous authors Charles Dickens and Mark Twain as "the most beautiful street in America."
Sometimes the commute is a great way to catch up with coworkers also bound for Science Park from the New Haven State Street Station. "I wouldn't have the opportunity to talk to someone else while driving, because it's just you in your car focusing on the route to work and back."
Commuting by train, Lou contends, is also less stressful than dealing with traffic and going over the Pearl Harbor Memorial (Q) Bridge, especially during inclement weather. Lou also points to other benefits of his commute; "as a busy parent of two small children, the walk from the train station to Science Park is a great way to sneak some extra cardio into my workday."
Lou strongly encourages Yale faculty and staff to consider changing their commute from driving to using the rail system or other forms of public transit. "You don't have to worry about anything, through the Yale Portal you can coordinate the Commuter Benefits Program, and it's all pre-tax and deducted from payroll. There's also great flexibility, on days when you want to use your car—you have that option, you get up to three parking pass days a month," he says. He also mentioned that the Guaranteed Ride Home Program—a service provided for transit riders, carpool and vanpool participants in case of an emergency that guarantees the commuter a ride home–is another selling point for those hesitant to transition toward an alternative commute.
He posits that there is a psychological barrier on campus, "when you are at Yale for several decades you get set in your ways, I encourage everyone to at least try a different method of commuting—if only for a trial run."
Breaking these routines is something Lou is familiar with, "sometimes I change the route I take from the train station to work in order to break the habit of rote memorization, that way I really get to see the city around me." It's something that we can all aspire to at a place that emphasizes innovation as much as our university does.