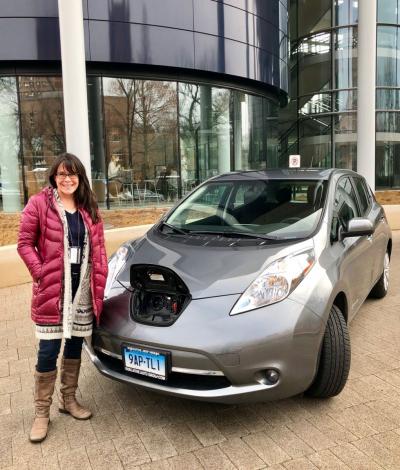 In increasing numbers, members of the Yale community are cutting ties with the gas pump by investing in electric vehicles (EVs). In fact, the 2017 University Transportation Survey showed that 2% of automobile commuters are driving plug-in EVs. Aside from the environmental benefit of decreased greenhouse gas emissions and pollutants, these Super Commuters have found that driving an EV offers significant personal and financial benefits. Kim Zolvik of the Peabody Museum, Patrick O'Brien of the Center for Teaching and Learning, and John Bollier, Associate Vice President of Facilities, have made their commutes healthier and more sustainable by switching from fossil fuels to electric battery power.
Before Kim purchased her Nissan Leaf, she admittedly was not expecting it to be as powerful and enjoyable as it is.  "The way this car drives is phenomenal. It handles really well; you have power from the get go…It's everything that I didn't think it would be."
Kim and her husband originally purchased the Leaf to decrease their carbon footprint, but have since discovered its numerous benefits beyond sustainability. Having a car that does not emit unhealthy pollutants has been an important asset for Kim and her family.  "I didn't realize how strong fumes were until getting this car," Kim explained. "Especially in a city like New Haven with high asthma rates, a profound personal benefit for me is my daughter not breathing in the fumes that come with driving a regular car."
Patrick O'Brien, the owner of a Chevy Volt, made the switch to electric after moving from East Norwalk to Milford. He used to take the train from Westport to New Haven, but started to drive when he reduced the distance between work and home. "As a result, I wanted a more fuel-efficient vehicle," he said.
Patrick usually charges his EV at one of the four free plug-in stations in downtown Milford, but also has the ability to plug in his Volt to his garage. The charge lasts for two trips between work and home, and he always feels comfortable knowing there is a spare hybrid-gasoline engine with an additional 300+ mile range. Due to the fuel efficiency of the motor, "it never costs more than $25 to fill up the tank," he explained.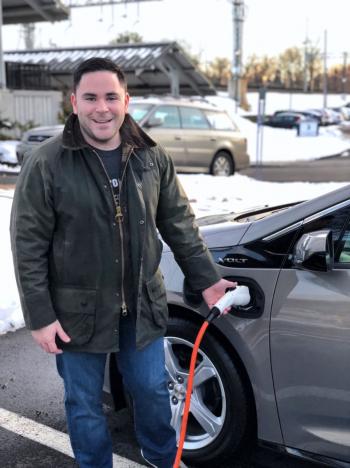 John Bollier, who also owns a Chevy Volt, found himself in the market for a new commuting vehicle about six months ago. His commute is just under 17 miles each way, which he is able to drive using solely the electric motor. Since purchasing his EV, John has traveled just under 6,000 miles, but estimates that he has filled up on gas just eight times total. For John, visiting a gas pump every 700 to 800 miles – and emitting far less emissions – has proven to be a valuable aspect of EV ownership. Moreover, he has been impressed with all of the controls and technology that greatly enhance the driving experience. "The control system does a lot more than I ask of it – there are several different modes that affect the drive."
None of these three Super Commuters have had to adjust their driving routines since purchasing their EV. As highlighted by John, "You don't have to change your lifestyle to drive this vehicle." The battery-only range is roughly 100 miles on Kim's 2015 Nissan Leaf and 53 miles for Patrick and John's Chevy Volts, but these Super Commuters have not experienced "range anxiety."
Patrick advises anyone interested in an EV that is easy to overcome the psychological barrier of battery range after thinking about your current driving habits. He and his fiancé chose the Volt because it has a hybrid-gas alternative engine that significantly expands the range, but after six months of ownership, Patrick determined he would be comfortable moving to an all-electric car.  "Most people don't drive more than 250 miles in a day, so why should we buy a vehicle based on the one road trip we take every couple of months?"
Likewise, Kim's all-electric Leaf has also proven to be an efficient way to get from point A to point B. She highlighted the Leaf's battery regeneration feature, which produces power for the battery when the vehicle brakes or decelerates. While a gasoline-powered vehicle gives you more mileage on the highway, this type of EV allows greater mileage on secondary roads because the battery regenerates. "I have 43 miles now, but when I left my house this morning I had 41. I actually gained 2 miles by taking Route 1 as far as I could to New Haven."
All three Super Commuters enthusiastically agree that others should not be afraid to invest in an EV. By assessing needs, budget, and typical destinations, anyone can find an electric vehicle model that works for his or her lifestyle. Patrick also suggests test-driving multiple models and engine options to get a feel for current market choices. "And if you don't want to commit, try leasing first; the dealer will pass on the tax incentives."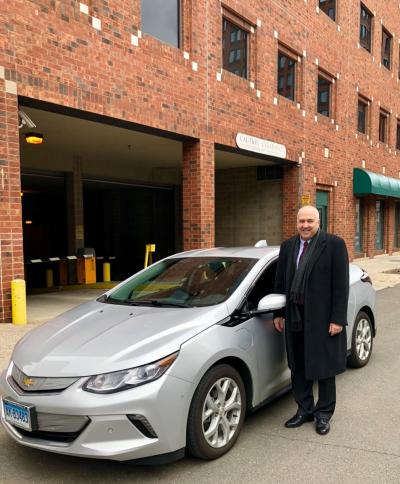 Kim, John, and Patrick have all made use of federal and state incentive programs to bring down the initial cost of their vehicles. Currently, EV purchasers may be eligible for a federal income tax credit of up to $7,500. In addition, the Connecticut Hydrogen and Electric Automobile Purchase Rebate offers incentives of up to $5,000 for Connecticut residents who purchase or lease a new eligible battery electric, plug-in hybrid electric, or fuel cell electric vehicle. These programs can help make the cost of an electric vehicle nearly the same as a comparable gasoline powered car. EV drivers may also save money on fuel depending on where they charge their vehicles.
Kim mentioned that her monthly electricity bill increased by $40 from charging her vehicle at home, which is less than she would spend on gas for the same time period. As Patrick usually charges for free at a public station in Milford, his cost to commute is almost nothing. Moreover, both Kim and John noted that the maintenance involved with EV ownership has been nearly nonexistent. "There are less moving parts," John explained.  "Over the life of it, I think the maintenance cost will be far less."
Kim has made use of smart phone apps made for EV users, which have made longer trips in her all-electric Leaf possible. "One app is called PlugShare, which maps locations that you can charge. There are even individual homeowners that let you charge in their home." Charging continues to become more convenient as infrastructure expands and technology improves to decrease charge times.
All three super commuters encourage people to "just go for it" when considering an investment in an EV. "It may have been an oddity 10 years ago, but it's mainstream now," John said. Still, EV owners remain a part of a unique community of people at the forefront of an electrified transportation future. As Kim puts it, "Right now there's this whole little subculture to it. If more people knew of the incentives, I think they would be apt to go for an EV."
To learn more about resources for electric vehicle drivers at and around Yale, visit the
It's Your Yale website
.