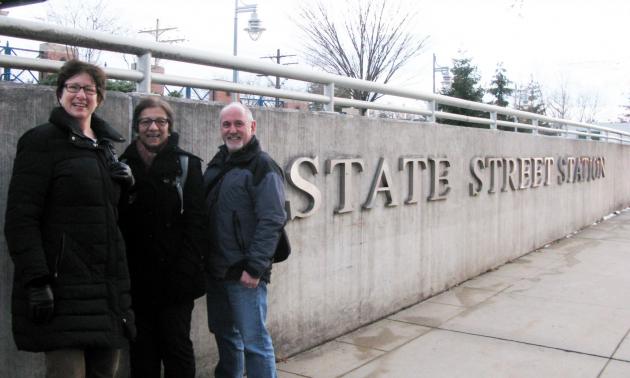 They work in different Yale departments and live in different Connecticut towns, but Rosemary Rubsam, Barbara Corcoran , and Carmen Cusmano (from left to right in the photo) have one thing in common: they all commute to work by train. While their reasons for commuting differ slightly, they agree on a few things: riding the train saves money, is environmentally friendly, and is a great way to start the morning.  
Rosemary Rubsam is a Senior Administrative Assistant in Pediatrics at the Yale School of Medicine. Her daily commute involves lots of walking.  "If I wake up early enough, I'll walk from my house to the Branford train station which is about 1.5 miles." From there, she hops the Shoreline East to New Haven then walks from the train station to the Medical School—using her Fitbit to track mileage and calories burned. For Rosemary, the decision to commute was logical—reaping both health and environmental benefits. "I don't consider myself a 'super' commuter, but for this grandma, I look for activities that'll keep me moving."
Barbara Corcoran is a Senior Administrative Assistant at the Yale Law School and lives in Clinton, CT.  Four years ago, when gas prices started to rise and stay above $3 a gallon, Barbara was inspired to switch her daily commute from driving a car to commuting by train. She is now part of the Shoreline East community and has had many great experiences with fellow riders.
On a recent train ride, Barbara witnessed a moment of kindness between two passengers. A young woman on the train began crying and was visibly shaken. Most people simply ignored her except for one fellow commuter who started talking to her. During their conversation, she stopped crying and seemed calmer by the time they disembarked. "In instances such as this, riding the train becomes not just a mode of transportation, but also a chance to be part of a small community. The same people ride every day. You really start to get to know them," said Barbara.
For Carmen Cusmano, taking the train is about using available resources. Carmen is a Procurement Specialist at Yale Printing and Publishing Services (YPPS). He has been commuting by train for five years.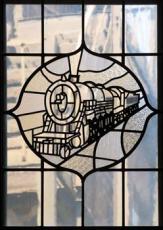 What started as a temporary means of transportation, while his car was being repaired, has become a way of life for Carmen. Each day he hops the Shoreline East in Guilford and gets off at the State Street Station. From there, he walks to his office at 344 Winchester Avenue—about a 30-minute trek. On wintry days, Carmen takes a bus to Ingalls Rink, and then it's a much shorter walk to YPPS. Some days Carmen will take Metro North from Union Station to Milford and visit his grandson.
Each of the "super 3" has a different favorite part of his or her commute: Rosemary likes logging in 10,000 steps daily; Barbara enjoys taking advantage of the downtime do some reading; and, Carmen states, "it's not a time-saver but it's a mind-saver."
These individuals made the switch to sustainable commuting with ease. For those contemplating the switch, Yale provides some incentives. The Yale Red Line Shuttle runs between Union Station and many campus locations. Yale provides commuters with three free days of parking per month and pre-tax savings on tickets.  For more information, visit http://to.yale.edu/train.
Author:
Sydney Dinkeloo & Lisa Maloney, Yale Administration