Yale University can be reached by several airports, view airports in a larger map.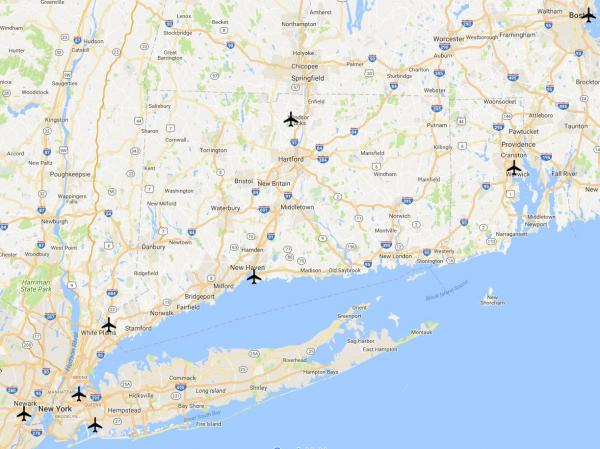 Tweed-New Haven Regional Airport (HVN): New Haven, CT (5 Miles)
Tweed-New Haven Regional Airport is only minutes from campus and served by US Airways with daily non-stop flights to/from Philadelphia International Airport where travelers can easily connect to destinations around the world. Car rentals and taxi service are available for hire.
---
Bradley International Airport (BDL): Windsor Locks (Hartford), CT (52 Miles)
Bradley International Airport is marketed as the "no hassle" alternative to the New York City airports. It is served by all major airlines and is reasonably easy to access from/to New Haven.
---
John F. Kennedy Airport (JFK): Jamaica, NY (80 miles)
JFK is the largest and most heavily used airport in the New York Metro area. It serves international travelers from all over the globe and can become exceptionally busy. If you plan to fly at a peak time, particularly at the start of national holidays, you will need extra time to check in. Be aware that because of the volume of people using JFK, immigration controls could delay your travel time.
---
LaGuardia Airport (LGA): Flushing, NY (73 Miles)
With flights to cities mainly across the United States as well as Canada and the Caribbean, LGA provides over 1,000 daily takeoffs and landings. The smallest of the New York airports, travelers agree it is fairly quiet and easy to pass through compared to JFK and EWR.
---
Newark Airport (EWR): Newark, NJ (93 Miles)
Newark International Airport is a viable alternative for international travelers visiting Yale though further distance from New Haven than when using JFK International Airport. Peak Holiday travel periods are busy so travelers should allow extra time. Amtrak provides rail service to/from EWR- New Haven.
---
Boston Logan International Airport (BOS): Boston, MA (140 miles)
---
Providence T.F. Green Airport (PVD): Providence, RI (96 miles)
Providence' T.F. Green Airport (PVD) is an attractive alternative to Boston's Logan International Airport as delays and wait time in this airport are minimal. Car rentals are available for an easy 1.5 hour drive along I-95 South to New Haven.
---
Westchester County Airport (HPN): Harrison, NY (50 miles)
Located about 30 miles north of midtown Manhattan and 50 miles southwest of New Haven, passengers are attracted to HPN airport because of its comfort and convenience. Connections at major hubs now make it possible for passengers to access global destinations. Car rentals, taxis, and limos serve HPN.