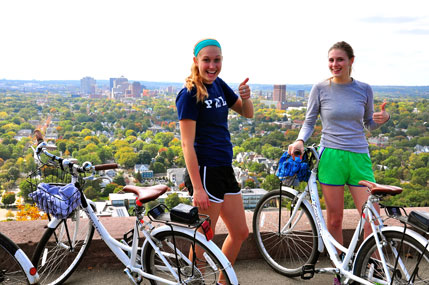 Summer is here, and with longer days and warm temps it's the perfect time of the year to join Yale's Zagster bike share program.
Pedal to your next destination–whether you need to get from a lab to the library or from the medical campus to Science Hill, a Zagster bike will get you there quickly.  There are 10 locations around campus to pick up and drop off bikes.  This summer Yale Transportation Options will be relocating two "pods" of Zagster bikes to locations across from 333 Cedar Street and Kline Geology Laboratory. Zagster bikes can also be used for fun group rides (see Elm City Cycling's event calendar) and to get outside to visit Sleeping Giant Park, Lighthouse Point, or to bike up to the top of East Rock.
Zagster's approach to bikesharing makes it a better technology for a small community like Yale's campus than conventional dock-based Bikeshare systems like New York's CitiBike. Rather than relying on a "smart" dock, Zagster's lock is "smart," so you can lock it up wherever you need to while your reservation is active. "Smart lock" systems are easier and less expensive to install, operate and maintain. Yale proves its commitment to innovation by selecting Zagster to run its Bikeshare program: we are their first university program!
The program is easy to join—and affordable. The yearly membership fee is $30, the first 4 hours are free and $3 an hour after that up to a day rate of $24 (for 24 hours).  Members who attend a bike safety class receive a $20 refund and complimentary bicycle helmet. The next bike safety class will take place on Thursday, July 17, 2014 between 3:30 p.m. and 4:30 p.m at 135 College Street.
The bicycles are comfortable to ride with adjustable seats to fit everyone. Each bike is outfitted with a basket, a front and rear light, and a U-lock so you can make multiple stops during your reservation. Members can also make reservations with the Zagster mobile app making it convenient way to get around on-the-fly. One Zagster member commented, "I was going to a meeting on upper Prospect Street and missed the shuttle. As I was walking by Becton I noticed the Zagster bikes and decided at the last minute to ride to my appointment instead. I got there 10 minutes early."
Take advantage of the beautiful weather and slower pace of the summer months by registering for the Yale Zagster bike share program today.