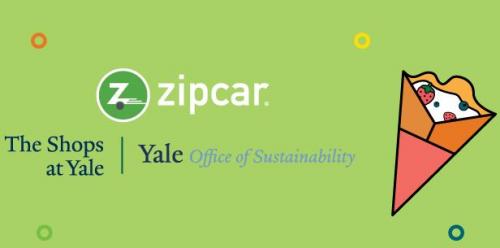 Zipcar and Yale University are proud to announce that 2017 marks the tenth anniversary of Yale's Zipcar program on campus. To celebrate, Zipcar, the Yale Office of Sustainability, and The Shops at Yale are hosting an event at the Broadway Island on Thursday, May 11, 11am-1pm. The event includes free lunch from Crêpes Choupette for the first 50 attendees, along with music, games, and prizes from local shops and restaurants.
Zipcar launched at Yale on August 27, 2007, with six vehicles and has since grown to offer 35 vehicles across the Central, Medical, and West campuses, including a fun and sporty Volkswagen Golf, a spacious Honda CR-V and an environmentally-friendly Toyota Prius. Zipcar's success on campus led to an expansion off campus through an official partnership with the City of New Haven on October 1, 2010.
According to a Zipcar/UC Berkeley study, more than 30 percent of college Zipcar members leave their car at home after joining the service, so Zipcar has potentially helped to reduce the number of cars on campus by thousands over the past ten years. Zipcar's convenient and cost-effective service offers the benefits of having access to a vehicle without the hassles associated with owning one.
"Zipcar has made a tremendous impact on our campus, helping increase mobility and sustainability while decreasing parking demand," said Ginger Chapman, Director of the Yale Office of Sustainability. "The program helps the community reduce environmental impacts, in line with the goals of the Yale Sustainability Plan 2025." A Mineta Transportation Institute study shows that members of car-sharing programs like Zipcar can reduce their personal greenhouse gas emissions by up to 1,600 pounds per year.
Hourly Zipcar reservations on campus start at $7.50 an hour and $69 per day, including the cost of gas, maintenance, insurance and 180 miles of driving per day.
Register here to join the celebration on Thursday, May 11, 11 a.m. - 1 p.m., at the Broadway Island at The Shops at Yale!