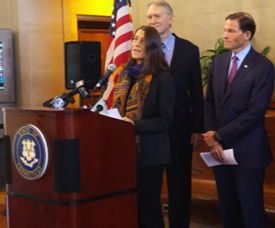 Senator Richard Blumenthal visited New Haven's Union Station on Wednesday, January 6, 2016, to announce the permanent restoration of the Commuter Benefits Equity Act. Congress passed the measure in mid-December as part of the Protecting Americans from Tax Hikes Act of 2015.
The new legislation increases that amount of pre-tax income that employees of participating employers (like Yale) can set aside for transit expenses. Up until 2013, employees could use up to $250 of their pre-tax income per month for off-campus parking and transit costs for the train, bus, or a vanpool. Then in 2014, the amount for transit was reduced to $130, while parking remained at $250. Thanks to the efforts of Senator Blumenthal and many others, this new bill brings the allowable pre-tax amount up to $255 per month for transit and parking expenses.
Ginger Chapman, Director of the Yale Office of Sustainability, was invited to speak at the Senator's press conference. "At Yale we work hard to encourage policies that tilt behavior toward sustainable life choices.  This legislation does just that," she said. It finally remedies a policy that had essentially favored the use of cars over mass transit and van pools.  This legislation helps to encourage the use of rail and other forms of mass transit and thereby helps to cut pollution, reduce road congestion, and enables people to get to and from work less expensively."
Nearly 500 Yale employees took advantage of the pre-tax savings for transit expenses in 2015, and now they will be able to save even more. In addition, the measure could help increase the number of employees currently using transit to get to work at Yale – currently 20% of the total population, reducing the University's carbon footprint.
Ginger highlighted the importance of measures to increase alternative transportation, not just among Yale employees. "Yale University has joined a growing number of institutions around the world who are acting on our collective responsibility to develop sustainable solutions that address the environmental impacts of our actions; sharing a ride, using public transportation, bicycling, or walking are choices we can make as individuals to start having a positive impact–one commute at a time," she said.
Senator Blumenthal and the other speakers at the press conference, including Doug Hausladen, Director of the City of New Haven Department of Transportation, Traffic and Parking, also encouraged those who whose employers do not currently offer the pre-tax benefit to talk to their employers about establishing a commuter benefits program. Yale University continues to support these measures internally, through the Commuter Benefits Program, as well as in the external community through projects just as goNewHavengo.
By  Brianne Mullen, Yale Office of Sustainability