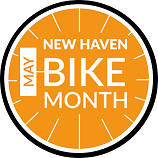 New Haven Bike Month is a month-long celebration of biking culture in May in collaboration with the City of New Haven and many dedicated community members. By working closely with New Haven neighbors and neighborhoods on planning events throughout the month, Bike Month is building towards a vision where every person in every neighborhood feels safe, excited, and empowered to ride their bikes.
Bike Month consists of over 100 bike-oriented or bike-friendly events in the New Haven area, including festivals, group rides and games, bike repair and safety classes, and bike trivia nights. Specific events include:
Clean Air Run @ Edgewood Park | May 8th @ 9-11:3 a.m.
East Rock Open Streets @ Bradley Street Bicycle Co-op| May 13th @ 6-9 p.m.
Wheels on Whalley | May 14th @ noon
Bike Prom | May 20th @ 7:30 p.m.
Open Streets with Cornell Scott-Hill Heath Center | May 21st @ noon
Alley Cat | May 28th @ noon
Fair Haven Pop-Up Festival | May 30th @ 2 p.m.
Bike Awards Dinner | May 31st @ 6 p.m.
Check out the full calendar here.
The Yale Office of Sustainability will host a Bike to Work Breakfast on May 27. Cyclists who show their helmet will receive free breakfast. Also, new for 2016, others who donate an unused bike will also receive breakfast. Donated bikes will benefit the new Yale Bike Recycling Program, a collaboration of the Office of Sustainability and local bike organizations to repair bikes and provide them to local organizations and individuals in need.
Also new for 2016 is the Bike Benefits Program benefitting Bike Month and goNewHavengo's sustainable transportation work. By purchasing a Bike Benefits sticker for your helmet at a New Haven Bike Month event, you will receive discounts at local shops and restaurants including Blue State Coffee, The Devil's Gear, and others. Yale University is a lead partner on goNewHavengo, an active transportation program to encourage healthier, cheaper, and cleaner travel in the Greater New Haven area.
Bike to Work Breakfasts
Fridays, 7:30-9:30 a.m.
May 6: New Haven Green (event page)
May 13: Yale University Art Gallery, 1111 Chapel Street (event page)
May 20: Pitkin Plaza, Orange & Chapel Streets (event page)
May 27: Phelps Gate, 344 College Street (event page)
Help reduce waste at the bike breakfasts this year – bring your own coffee mug!