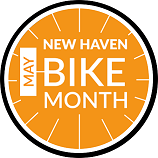 New Haven Bike Month is a month-long celebration of biking culture in May in collaboration with the City of New Haven and many dedicated community members. By working closely with New Haven neighbors and neighborhoods on planning events throughout the month, Bike Month is building towards a vision where every person in every neighborhood feels safe, excited, and empowered to ride their bikes.
Bike Month consists of a full calendar of bike-oriented or bike-friendly events in the New haven area, including groups rides, bike tours, bike drives, and neighborhood block parties. Check out the calendar of events here.
The Yale Office of Sustainability will host a Bike to Work Breakfast on Friday, May 25, at Phelps Gate. Cyclists who show their helmet will receive free breakfast. Also, others who donate an unused/unwanted bike will also receive breakfast. Donated bikes will benefit the Yale Bike Recycling Program, a collaboration of the Office of Sustainability and local bike organizations to repair bikes and provide them to local organizations and individuals in need.