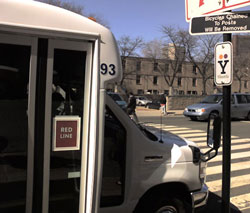 The new "yellow" express line seeks to improve access to Union Station for those hoping to catch trains at the end of the workday.
This new shuttle line began service February 2 and runs a 15-minute, short loop around the School of Medicine and Union Station from 4:10 p.m.to 5:30 p.m. on weekdays.
Yale Transit introduced this line after it learned that the Red Line shuttles were over capacity during rush hour leaving some individuals waiting for the next bus and getting to Union Station late. 
Instead of adding another full Red Line, Yale Transit decided to simply add an hour and one half of service that would directly service those that needed it to get to the station during rush hour.  "We decided to add a little bit more seat capacity, but instead of sending the bus all the way back uptown, we're keeping it in the general vicinity of the Medical School," said Ed Bebyn, Director of Yale Transit and Parking.
Currently only one express shuttle is running. 
To find out more or see the route live, visit http://to.yale.edu/shuttle.