GoNewHavengo is a coalition of local and state partners that brings together organizations and individuals to increase the use of mass and active transportation options. The mission of the group is to promote health and well-being across the region by advancing safe, cost effective, and convenient transportation for getting into and around New Haven.
There are two ways you can support goNewHavengo's mission this spring:
Join over a thousand bike riders for the annual Rock to Rock Earth Day Ride on April 22 to raise money for local organizations working on environmental issues!
The ride begins at Common Ground High School at the base of West Rock Park and ends with a festival at East Rock Park. There will be groups of bike riders leaving from Yale in the morning to ride together to Common Ground.
Ride options: 8-mile, 12-mile, 20-mile, 40-mile, 60-mile. 
Registration for students costs $15, which covers the costs of the event.
Register here and remember to join the goNewHavengo team.
No bike? No problem! Zagster bikeshare cruisers will be available for the first 20 registrants who need one (open Yale students, staff, and faculty only).
If you don't want to ride, Rock to Rock is also looking for day-of volunteers to help with event logistics.
---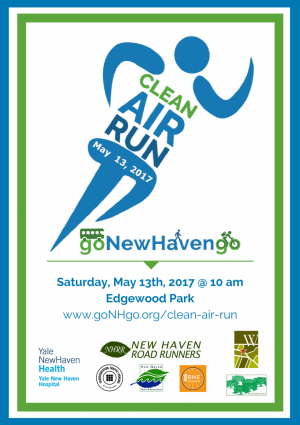 Register for the second annual Clean Air Run, held in partnership with the New Haven Road Runners.
Saturday, May 13, 10 AM at Edgewood Park
$20 or $22 (Get a discounted ticket if you commit to using public or active transportation to get to the event! Active transportation is powered by your body - biking, walking, roller blading, etc.)
If you can't register but are interested in volunteering for the event, contact goNewHavengo!
---
In addition, keep an eye out for additional information on the upcoming CarFree Challenge in September. Yale University has won the prize for the most greenhouse gas emissions avoided by a large business two years in a row!