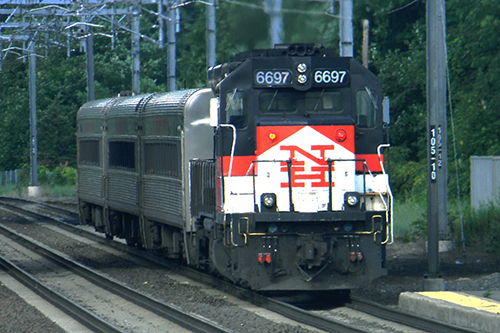 At variance with the 60+ rail commuters who filled a Yale classroom at the September Connecticut Rail Community Forum, a crowd roughly one-third the size gathered at William Harkness Hall on March 13th to discuss improvements to the Shoreline East and Hartford Line. Richard Andreski, Public Transportation Chief for the Department of Transportation, guided the discussion and was joined by leadership from CT Rail, including John Bernick, Richard Jankovich, Russell McDermott, and Carl Jackson to review progress and future improvements.
At the September event, commuters expressed their frustrations over cancelled trains, late trains, train-buses, onboard restrooms, and inadequate communication between operators and riders. Since then, numbers show that service has improved significantly. Since January 2019, the Shoreline East has had an on-time performance rate of 95%, up from 85% in the summer and fall of 2018.
The Connecticut Department of Transportation is in the midst of several infrastructural and equipment enhancements, which will improve the rider experience in the near-term. Construction of a second platform at the Clinton Station will wrap up in 2020, and the shoreline track work program will commence this summer. Whereas 21 miles of Shoreline East track underwent upgrades in 2018, only 5 miles require work this year. This work will allow two buses substitutions to revert back to trains in April and full rail service to be restored this summer. The diesel locomotives that currently power CT rail were another contributing factor to substantial service delays. Since September, all locomotives have undergone diagnostics and have become increasingly more reliable. Though service overall has been inconvenient, Andreski explained that these recent upgrades will allow for superior service in the future.
Longer term plans include a five-year capital program to replace all Shoreline East and Hartford Line equipment, including all rail cars. The ConnDOT is working with a consulting firm to design the cars, which will be fully ADA compliant and provide ample space for bikes. Moreover, the recent electrification work along Shoreline East track provides opportunity to replace old diesel locomotives with electric locomotives, significantly speeding up travel times. The CT DOT, rather than Amtrak, would own this equipment, allowing for greater control over improvements and services. Andreski noted that this plan is dependent on conversations currently taking place at the state legislature, but if all goes according to plan, a formal announcement about these improvements can be expected by the end of the year.
Improved coordination between Amtrak and CT rail has resulted in better communication between operators and customers. In the case of a delay or cancellation, riders can now sign up to receive text message updates, and the message boards at each station are being upgraded to provide real-time notifications. Though on-time performance has improved, Andreski clarified that CT rail often does not receive delay information from Amtrak until the threshold of 5 minutes 59 seconds is reached. The ConnDOT is testing a mobile app, which could allow real-time tracking of trains in the future. Once the app is released, it will allow passengers to purchase Shoreline East and Hartford Line tickets directly from their smart phone.
Following the presentation, riders were given a chance to express concerns and ask questions. Dedicated riders of the Hartford Line cited the relative inconvenience of the service during rush hours, especially when traveling north of Hartford. Andreski explained that this is partly due to a span of single track, which complicates scheduling commuter trains during certain hours. He followed up with the long-term vision for the Hartford Line, which calls to increase service north of Hartford and offer 25 round trip trains per day, in roughly 30 minute intervals.
Other questions ranged from transportation options from the Hartford Line to Bradley Airport, more bike racks on the trains, and fixing issues with onboard restrooms. The CT rail panelists encouraged customers to get in touch with their service team with any questions and concerns. Riders can use the Shoreline East contact form and Hartford Line customer service form or make a call to report any issue. Moreover, the panelists noted that if there is an issue onboard, it is helpful to report the number of the car to facilitate a timely fix.
These much needed rail improvements come at a time when Connecticut faces significant challenges in its transportation infrastructure. By bearing with train delays today, the state can move toward a more efficient and sustainable rail system down the line.