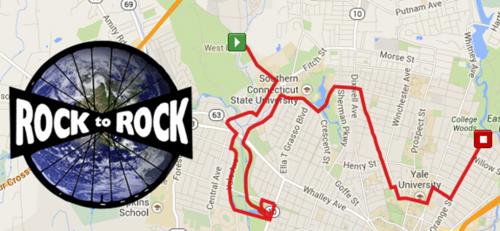 Like to ride? Creative? Help design new routes for the 2015 Rock to Rock Earth Day Bike.
Win Great Prizes!
1st Prize $50 Denali gift card and $50 Devil's Gear gift card.
2nd Prize $50 Elm City Market gift card.
Submissions: Submit a drawing (PDF) of your route with turn by turn directions, including highlights that make the route special. The maps and directions will be shared online to get input from the broader Rock to Rock community.
Send Maps to Chris at nh@newhavenleon.org by August 15th.
Ride Criteria/Goals
Safe … Include parks, nice routes, green spaces, rest stop • Start at Common Ground/West Rock, end at East Rock Park College Woods • Get all riders to East Rock by 1:30pm • Good rest stop locations • Bonus: Include environmental connection in some way.
View 2014 R2R Rides online at www.rocktorock.org.
Help spread the word with this flyer!