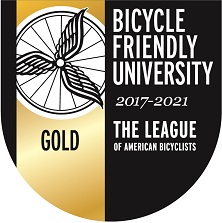 The League of American Bicyclists has recognized Yale University with the Gold-level Bicycle Friendly UniversitySM award. The award was announced at an event hosted by the League and Bike Walk Connecticut on Saturday, October 21, 2017. Yale has been a Bike Friendly University since 2012 when the University achieved Bronze-level status, then getting to Silver in 2014. Yale is one of only 20 universities in the country with the Gold-level designation.
The League of American Bicyclists is a nonprofit organization representing bicyclists in the movement to create safer roads, stronger communities, and a bicycle-friendly America through information, advocacy, and promotion. The Bicycle Friendly University program recognizes institutions of higher education for promoting and providing a more bikeable campus for students, staff and visitors.
There are over 2,700 bicycle parking spaces on and around campus, including outdoor and indoor racks and lockers. Students, faculty, and staff who bike to campus also have access to several shower facilities. A Bicycle Safety Training course is offered regularly to the Yale community and participants are provided with a free bike helmet. Yale also partners with CTrides, a program of the Connecticut Department of Transportation, to offer a guaranteed ride home and commuter rewards to cyclists.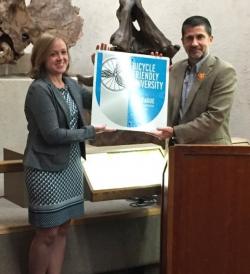 In addition to these existing facilities and programs, the University is planning for several new bike-related enhancements for campus. A new bikeshare program will launch this fall. A Sustainable Transportation Framework Study, also to be completed later this fall, will present implementable near- and long-term strategies that encourage bicycling, walking, and transit use to connect Yale's commuting population to its campuses and to better connect the campuses to each other. Specific projects will include increasing and enhancing shared and separated bike paths, increasing bike parking and storage facilities, and promoting bike commuting through incentive and other programs.
Photo left: Brianne Mullen, Yale Office of Sustainability, accepts award on October 21
Yale's Bike Friendly University designation would not be possible without the City of New Haven's support and efforts to improve biking infrastructure. The event on October 21 celebrated the launch of Bike New Haven, the City of New Haven's bikeshare program, and encouraged the City as it goes for Gold-level Bicycle Friendly CommunitySM designation. At the event, Mayor Toni Harp acknowledged the role of partnerships like goNewHavengo, a collaboration between the City, University, and other partners, in making the community more bike-friendly.
The Yale Sustainability Plan 2025 sets goals to achieve carbon neutrality by 2050, increase sustainable transportation on and off campus, and enhance partnerships with the City of New Haven towards a more sustainable campus and city. The University's leap from Silver to Gold-level Bicycle Friendly University is an acknowledgment of these efforts and many new, exciting initiatives to come.