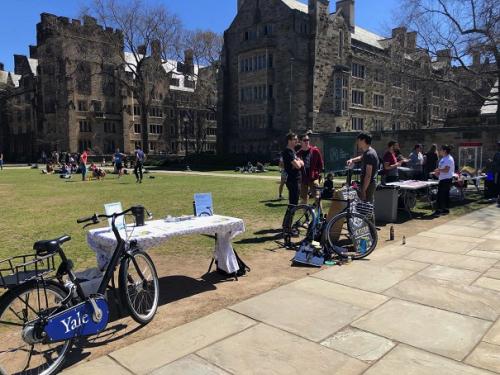 In celebration of Earth Day, the Yale community gathered on Cross Campus on April 22, 2018, to learn more about university sustainability initiatives. Organized by the Sustainability Service Corps, a student group that works to expand the culture of sustainability throughout campus, Earth Fest attracted many undergraduate and graduate students who were engaged with initiatives that promote environmental consciousness and sustainability. Each table at the event had a specific focus, which included a flea market where attendees brought unwanted clothes and belongings in exchange for any item left by another person, and a free bicycle tune-up station organized by the Bradley Street Bicycle Co-op.
Alongside these activities, this event marked the official launch of Yale's new bikeshare system. The Office of Sustainability provided bikeshare technology demonstrations, distributed vouchers for a free week membership, and answered questions on how the system works. These vouchers will also provide free unlimited rides on Saturday, April 28, to inspire Yale students, faculty, and staff to get riding in the Rock to Rock Earth Day Ride.
Since Yale bikeshare's soft launch in December, many students have found the system to be technologically advanced, easy to use, and convenient. The partnership with Noa Technologies has provided the Yale community with a fleet of 50 shared-use bicycles, which are distributed at stations throughout campus. Founded in 2012, Noa has extensive experience in bicycle fleet management solutions for large organizations. Using cloud-based software, Noa provides real-time bike location, status, alerts, and analytics to institutions like Yale. The Noa system will provide data-driven insights on the routes users typically follow, the amount of carbon emissions avoided, and more. This will help the University enhance bike infrastructure on campus and enhance partnerships with the City of New Haven seeking to promote sustainable transportation, like goNewHavengo.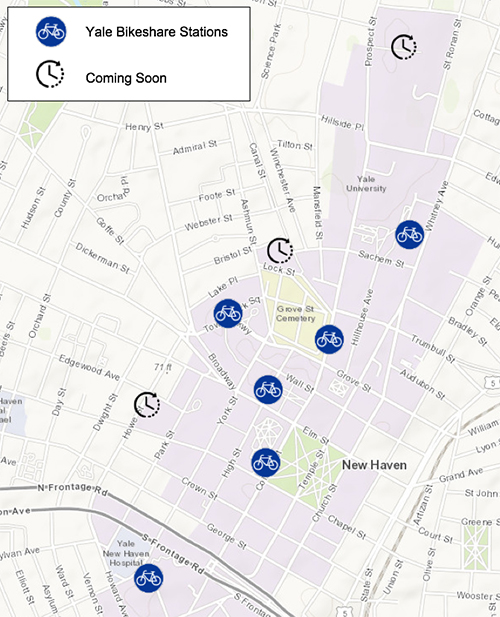 Students, faculty, and staff can find bikes on campus using the Noa Rider app, available on the App Store and Google Play. The app allows users to unlock and lock their bike from a smartphone, which also tracks trips using GPS. Pricing varies based on the type of membership. 
A single day (24 hours) costs $4.99. A monthly membership costs $9.99, a six-month plan is $29.99, and a yearly price plan is $49.99. With each membership type, you get unlimited free one-hour rides. After the first hour, there is a $3 charge per additional hour.
Currently there are 6 bikeshare stations distributed around Yale's campus. They are located at Payne Whitney Gym, Sterling Memorial Library, Becton Center, Cedar Street, Old Campus, and Kline Geology Lab. Over the coming weeks, new stations will be implemented to make the system even more convenient for the Yale community.
The League of American Bicyclists recently recognized Yale with a Gold-level Bike Friendly University award, one of only 20 universities in the country with this designation. Bikesharing will be a significant contribution toward making Yale's campus a safe and enjoyable place to cycle.
The Yale Sustainability Plan 2025 sets goals to achieve carbon neutrality by 2050, increase sustainable transportation on and off campus, and enhance partnerships with the City of New Haven towards a more sustainable campus and city. The new partnership with Noa has the potential to contribute to all three of these areas, providing an efficient, healthy, and convenient way to travel.
- Connor Sullivan, Sustainability Fellow