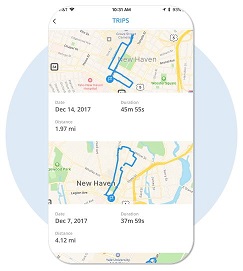 Bikesharing is growing at a substantial clip in cities throughout the world. This trend is rooted in European and Asian cities, but more recently cities in the United States have realized the potential environmental, economic, and public health benefits of this mobility mode.
According to the National Association of City Transportation Officials, the number of bike share systems in the United States, defined as publicly-available systems with at least 10 stations and 100 bikes, has steadily increased from four systems in 2010 to 55 systems in 2016. In addition, 80 percent of systems that have been in operation for more than a year have expanded since they first launched. With benefits like cleaner air, less traffic congestion, and healthier citizens, local governments and institutions have been leveraging bikeshare as a way to integrate low-cost transportation systems into the urban landscape.
Smart mobility technologies, like dockless, cloud-based bikesharing systems have proven to be healthy and efficient means of navigating the modern city. Traditional bikeshare docking stations limit where a bike can be rented or secured, and are rendered useless when a docking station is empty or completely filled. Conversely, cloud-based bikeshare systems function using Bluetooth and GPS capabilities on smart phones and the bikes, which enables riders to reach more destinations.
Small and mid-sized cities and institutions, like New Haven and Yale University, have begun adopting smart technology bikesharing that mimic big-city bikeshare programs. Yale has partnered with Noa Technologies, an expert in transportation solutions for large organizations, to provide 50 shared bicycles to the Yale community. Noa employs cloud-based fleet management software to provide real-time bike location, status, alerts, and analytics.
Since launching in early December, dozens of students and staff have signed up for bikeshare, despite the cold winter season. While many users may be waiting until the spring to begin riding, so far all have commended the highly intuitive Noa Rider app for its innovative technology. As noted by a graduate student, "the bike is so technologically advanced and super easy to use."
Once signed up on the Noa website, users can find bikes on campus using the app, which is free to download in the App Store and on Google Play. There are several geofenced drop zones dispersed around Yale's campus, where users can find and return bicycles using the app. Current drop zones are located at Kline Geology Lab, Becton Center, Payne Whitney Gym, Old Campus, and Cedar Street, and more will be added in the spring and summer. Upon ending a rental session, the app displays a trip summary, including a map of the route, distance traveled, and duration.
Positive user experiences with bikeshare in large U.S. cities have driven the expansion of bikeshare into smaller communities. Mirroring this theme, Nathan Lubich with Yale Conference & Events expressed his positive experiences with bikeshare in the past and his enthusiasm for efficient mobility options in New Haven.
"Being new to Yale, I'm looking for ways to get around campus and around town without a car since I commute by train daily for work and campus isn't easily navigated by car," says Lubich. "While not much of a biker, I've had pleasant experiences using bike shares in different cities while traveling, and think it is going to be a great option for getting around campus and New Haven."
Municipalities and institutions served by mobility data providers, like Noa Technologies, have the potential to increase a city's understanding of how people interact with the environment. Urban areas can benefit from data sharing and become "smarter" by obtaining better control of their data and synthesizing what it implies. Governments and institutions that do this are better adapted to ensure energy efficiency, equity, and sustainability.
Moreover, data optimization can infiltrate policy and lead to more efficient management of assets and community resources. This means that communities can more effectively plan things like bus routes, bike lanes, and safer streets. Because every community's form and function differs, policymakers can collaborate with private transportation companies like Noa and act on their unique mobility data.
Bikesharing inevitably gets more people riding bikes, which can result in a greater push toward cycling infrastructure improvements. By crowdsourcing trip data, the routes that bikeshare users frequently traverse can give institutions a stronger understanding of where improvements are needed the most. The Noa system will help Yale continue the trend of supporting cyclists on campus, as evidenced by its recent Gold Bicycle Friendly UniversitySM award from the League of American Bicyclists.
As noted by Lubich, "[t]he more people who bike, the easier it is to get buy-in from the university and the city of New Haven to improve the city's bikeability."
This sentiment has been echoed by biking enthusiasts within the Yale community, but even inexperienced bikers are excited for initiatives that will continue to build a strong bike culture in New Haven. Working with Noa Technologies, the City of New Haven will soon be launching its city-wide bikesharing program. As exemplified by Yale and many modern cities, synergy between public and private sectors will enable the success of mobility initiatives.
- Connor Sullivan, Sustainability Fellow, Yale University