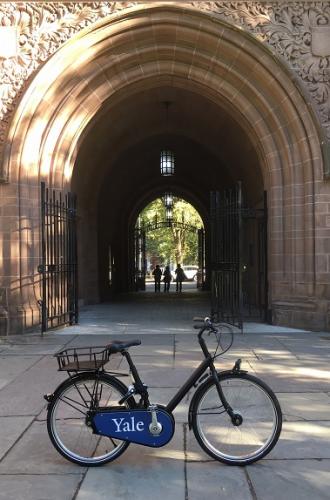 Despite colder weather tightening its grip on Yale, bikeshare officially arrives on campus on Monday, December 4th. A new partnership with Noa Technologies (Noa) has provided the Yale community with a fleet of 50 bicycles that make bikesharing a viable mobility mode all year long.
Yale has had shared bikes on campus for nearly ten years. Beginning with the departmental Y-Bike program in 2008, then a multi-year partnership with Zagster, the Yale community will now have access to Noa's advanced bikesharing system. Founded in 2012, Noa has extensive experience in bicycle fleet management solutions for large organizations. Noa uses a cloud-based software to provide real-time bike location, status, alerts, and analytics. Users find bikes on campus using the Noa Rider app - available on the App Store and Google Play.
Yale students, faculty, and staff members can purchase a bikeshare membership once they have downloaded the Noa Rider App. The App allows users to unlock and lock their bike from a smartphone, which also tracks trips using GPS. Pricing varies based on the type of membership. A single day (24 hours) costs $4.99. A monthly membership costs $9.99, a six-month plan is $29.99, and a yearly price plan is $49.99. With each membership type, you get unlimited free one-hour rides. After the first hour, there is a $3 charge per additional hour.
Learn more about how the new bikeshare system works here.
All Yale community members are encouraged to take Yale Environmental Health & Safety's free Bicycle Safety Training course to learn about traffic laws and bike safety in New Haven. Participants will receive a free helmet and the first 100 will receive free month of bikeshare upon completing the course. Sign up here for a class on Tuesday, December 5th or Thursday, December 14th.
The League of American Bicyclists recently recognized Yale with a Gold-level Bike Friendly University award, one of only 20 universities in the country with this designation. Bikesharing will be a significant contribution toward making Yale's campus a safe and enjoyable place to cycle.
The Yale Sustainability Plan 2025 sets goals to achieve carbon neutrality by 2050, increase sustainable transportation on and off campus, and enhance partnerships with the City of New Haven towards a more sustainable campus and city. The new partnership with Noa has the potential to contribute to all three of these areas, providing an efficient, healthy, and convenient way to travel.
- Connor Sullivan, Yale Sustainability Fellow, and Holly Parker, Noa Technologies