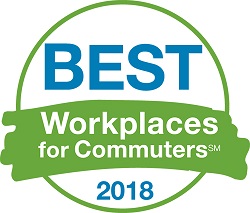 Yale University has been named one of the Best Workplaces for CommutersSM in 2018 for offering exceptional employee-provided commuter benefits that meet the National Standard of Excellence criteria.
"Yale University is on the cutting edge of a national movement," said Julie Bond, Program Manager, Best Workplaces for Commuters. "They have listened to their employees' challenges with traffic congestion and their concerns over reducing emissions. By offering a range of commuter benefits such as carpooling programs and access to Emergency Ride Home programs, Yale gives its employees the support they need to get to and from work so they can be at their best. These benefits are good for the company and its employees."
Yale University is among a select group of workplaces in the United States that have committed to employee-provided commuter benefits that result in at least 14 percent of their employee base not driving alone to work within a 12-month period. Yale offers employees several commuter benefit options, including:
The ability to purchase transit passes online with pre-tax savings applied to a monthly cost of up to $260;
Up to three free parking stays per month for transit riders and carpoolers;
Carpool matching and rewards through CTrides; and,
A guaranteed ride home in case of emergencies.
"We are extremely proud to receive the 2018 Best Workplaces for Commuters national designation," said John Mayes, Associate Vice President of Administration and Chief Procurement Officer. "Our employer-paid commuter benefit program reflects our strong commitment to our community members and to financial and environmental sustainability. Promoting efficient, sustainable transportation helps us reduce our carbon footprint and fosters a highly collaborative environment – both within the university and with other partners in the area.  We look forward to building on this accomplishment in new ways that are good for Yale and good for our community."
The Best Workplaces for Commuters program offers designated organizations access to a range of support services to assess and promote non-driving commuting of employees, including organizational assessment and implementation tool-kits, web-based tools and webinars, staff training, and information exchange.
"The companies on this list understand the importance and impact commuter benefits have on their employees and the value they bring to the environment," said Bond. "Excellent commuter benefit programs may reward these companies not just with a national designation, but buoys workplace productivity, customer loyalty and brand recognition in an increasingly competitive marketplace."
About Best Workplaces for CommutersSM
Best Workplaces for CommutersSM is the national authority on recognizing and assisting workplaces that provide exceptional commuter benefits to employees. More than a recognition program, Best Workplaces for Commuters program provides support needed to create, sustain an employee-provided commuter benefit program, including online assessment tools, advisory services, case studies, tool-kits, web-based tools, webinars and training. Best Workplaces for Commuters represents over 200 workplaces with Best Workplaces for Commuters designation representing over 734,000 employees. The Best Workplaces for Commuters program is managed by the Center for Urban Transportation Research (CUTR)  at the University of South Florida with support from the National Center for Transit Research (NCTR) and the Florida Department of Transportation (FDOT). For more information: http://www.bestworkplaces.org/