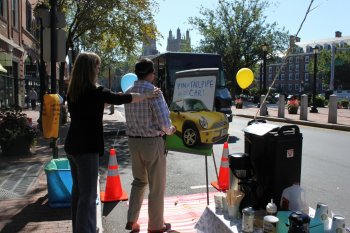 On Friday, September 20th, the City of New Haven celebrated PARK(ing) Day with less cars and more pedestrians using street parking spaces creatively.
PARK(ing) Day is an annual worldwide event where artists, designers and citizens transform metered parking spots into temporary public parks. This year, several downtown businesses and organizations had some fun illustrating that the streets can be used for more than just cars.
There were nine spaces reserved this year throughout downtown, all with different themes. The community was welcomed to relax or engage in some way which normally would be impossible because of the presence of a parked car. This was the third time that Yale Transportation Options (TO) participated.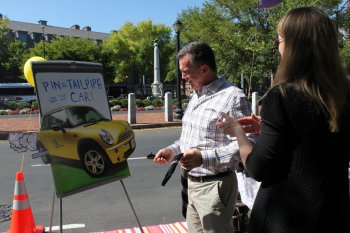 On Broadway, TO had a birthday-themed picnic table with free cupcakes from a new local bakery called Sweet Mary's. Passersby could pin the tailpipe on the car and win prizes or just sip a cup of coffee or cider and chat under sunny, cloudless skies.
Other parking spots offered free lemonade, couches to lounge on, a bean bag toss, artworks display, a ping pong table, and even a live bluegrass band!
Click here to see more pictures from PARK(ing) Day.