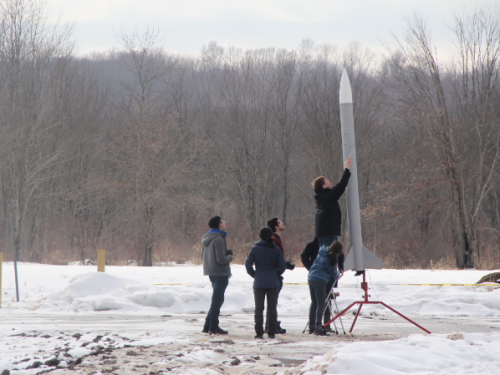 The Yale Undergraduate Aerospace Association (YUAA) works in teams to build and fly rockets, capture images of distant galaxies, test hybrid rocket motors, operate unmanned aerial vehicles, and more. This past fall, YUAA students entered into Ford and Zipcar's "Students with Drive" competition, which offers an exceptional award to an organization that uses Zipcar as a critical part of their work. YUAA was chosen as the first-place winner because of how they "go further" to implement their mission and engage the community. The award includes a $5,000 Zipcar credit, a $10,000 donation to YUAA, and a $10,000 donation to Yale's general scholarship fund, all of which will support current and future students at Yale, as well as the greater New Haven community.
YUAA competed against other university groups including Drexel's Weekend Warriors Club, Habitat for Humanity at the University of Texas, and the University of Chicago's Phoenix Farms. While each of the 15 finalists emphasized their record of community engagement in their applications, YUAA rose above as they described Zipcar's role in facilitating their projects and driving positive change both on campus and off campus.
Zipcar is an advanced car sharing program that allows members to reserve a car for an hourly or daily rate to make the process of car sharing safe, easy, and convenient. Yale partnered with Zipcar 11 years ago to offer students and employees discounted annual memberships to join the program. Since then, over 30 cars have been installed across campus and more than 10,500 Yale community members have joined the program. In 2017 alone, 3,111 students and 744 employees made trips using this service.
Since YUAA's inception in 2010, the group has helped foster Yale's engineering community by welcoming students of any experience level or background and by hosting events to promote aerospace engineering. From blueprints to rockets, YUAA projects are entirely student-run. In their video submission, students are pictured piling into Zipcars, rockets in tow, and carpooling to a rural field to launch their creations on a snowy winter day. Throughout the video, co-presidents Clio Byrne-Gudding '19 and Evan Haas '19 explained how the group inspires interest in the engineering fields. Both leaders, along with members of the group, highlighted how Zipcar facilitates the execution of their projects and team bonding.
"Our submission was pretty simple – we talked about our group and what we do. We didn't really want to do anything flashy, but rather just wanted to make it genuine. Plus, I think what we do is cool enough that it largely speaks for itself," Haas explained.
Ford and Zipcar agreed: According to Dan Cohen, senior manager at Zipcar University, "The group's dedication to further their mission in and around the Yale community landed them the first place spot. We look forward to seeing them accelerate their growth with the help of free Ford Zipcars and grant funds."
Upon notification of YUAA winning the competition, Dean Marvin Chun personally congratulated Haas and former co-president, Isabella Trierweiler '18, noting that he had the pleasure of supporting YUAA in its early days as the Head of Berkeley College and that "[i]t's rewarding to see the organization grow so strongly."
Ultimately, YUAA's entry was successful because of the way they described Zipcar's role in enabling their projects. Using Zipcar, students are able scout out and purchase raw materials that would otherwise be difficult to ship to campus. They are also able to survey air fields and test locations, complete their certification launches, and test fly their projects at rural sites off campus. The judges were also impressed by YUAA's record of galvanizing non-engineers to discover a passion for engineering. Byrne-Gudding's leadership in YUAA compliments her Philosophy major, and Haas explained how YUAA inspired him to pursue a Mechanical Engineering degree alongside his Chemistry major. "This I think is a vital part of the Yale STEM education experience, and something we're privileged to help provide." Haas said.
To promote engineering in the Yale community, the group regularly hosts skills workshops in partnership with the Center for Engineering Innovation and Design on topics like coding and 3D design. YUAA also hosts speaker events with figures from industry and academia, such as NASA Astronaut, Chris Cassidy, and soft roboticist, Kari Love. Their work expands beyond Yale, as well, which is not easily accomplished in the knowledge and skills-based engineering fields. YUAA students developed a model rocket workshop taught in local elementary schools, and they recently presented at the STEM Family Fun Day at Booker T. Washington Academy. Moreover, they spurred enthusiasm for their work at Sikorsky's "Family Day" activities this past fall and took part in a community night at the Leitner Observatory. Every year YUAA also hosts a showcase open to the public, Aeronautica, where students display their projects and present on their work over the past year.  
YUAA equips students with skills and knowledge that can only be gained from working on challenging, hands-on science and engineering projects. "Our group serves as an avenue for students to gain the skills they need to succeed as engineers. Building rockets is cool and getting to apply even a little of your Newtonian physics 101 outside of the classroom is encouraging," Haas explained.  "What you learn in the classroom is useful, but when it comes time to actually graduate and begin working on real projects – building real things – the transition is often hard as they lack the hands-on systems understanding.  We help students with this."
YUAA's experience shows that sustainable transportation modes, like carpools with Zipcar, are an effective means of facilitating hands-on learning experiences for student organizations. Yale offers students and employees an array of transportation programs and resources that serve the community and the environment. The Yale Sustainability Plan sets ambitious goals on topics like climate action, mobility, and health and well-being to ensure our university is resilient into the future. To learn more about Yale and Zipcar, visit the Zipcar page on the Yale Transportation Options website.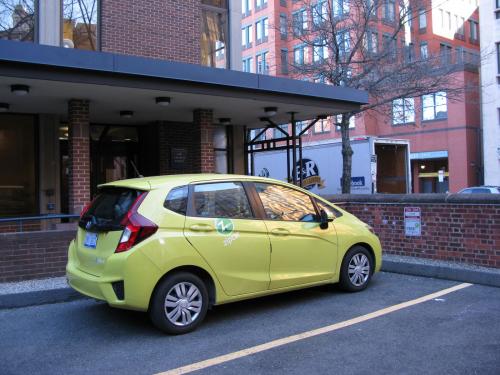 Author: Connor Sullivan, Sustainability Fellow