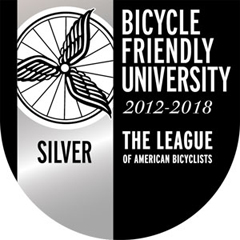 Yale takes a silver in cycling!  The League of American Bicyclists today announced their picks for Bicycle Friendly Universities (BFU) elevating Yale from a Bronze to a Silver designation.  Yale is the only BFU in Connecticut and only one of four in New England including Harvard, MIT and the University of Vermont. In 2012, Yale first joined the ranks of BFUs with a bronze. 
Alongside these other institutions Yale is part of a leading-edge group of colleges and universities from across the United States, which are transforming their campuses and the communities around them.   Investing in a bicycling infrastructure improves the quality of life and health for the entire Yale community.  It also provides greener transportation options including reduced parking demand and decreased traffic and greenhouse gas emissions.  People who give up their cars and bike to work improve their wellbeing. In fact, studies show bicycle commuters felt better able to concentrate and were less stressed than when they traveled by car.
One reason for the elevation from bronze to silver is the on-campus installation, in August 2013, of the Zagster bike-share program. This program now has over 600 members and over 8500 trips logged in.  Other factors include the addition of over 500 bike parking spaces (for a total of 2500 across campus) and the "I [bike] New Haven" marketing campaign done in partnership with local merchants, the Town Green Association, and the City that works to further enhance the cycling culture in New Haven and on campus. Yale continues to be a pioneer of the "smart bike" system of bike sharing adding the 50 Zagster bikes to their first-generation Bikeshare program called "Y-bike." The Y-Bike program, used by over 20 departments, has been in place since 2008. 
The Bicycle Friendly University program evaluates applicants' efforts to promote bicycling in five primary areas: engineering, encouragement, education, enforcement, and evaluation. Yale did well in the enforcement category for the increase of police and security officers on bike patrol, and for traffic safety education. Yale Police and Security have almost 60 bikes in their combined fleets rolling and patrolling about campus. 
This award is the result of on-going collaboration between the City of New Haven, cycling advocates of Elm City Cycling, and Yale's Offices of Facilities, Sustainability, and Transportation Options. "We encourage each other and share information on best practices," says Holly Parker, Director of Yale's Sustainable Transportation Options.  Yale strives to be a sustainable and safe campus and providing more options for cyclists is part of its campus green plan.
"Elevating Yale's Bicycle Friendly University status from Bronze to Silver was a strategy in our Sustainability Strategic Plan, and we felt we improved our offerings for bicyclists by - among other things - bringing a 50-bicycle bikeshare to our campus, and increasing bicycle parking capacity. In New Haven, we're extremely fortunate to have a staff in city government dedicated to improving the city's roadways and bike parking options to make biking a safer and friendlier mode of transportation for university affiliates and local residents alike," says Parker.
The Silver designation is good for four years after which time Yale can renew at the same level, or if significant upgrades are made, be considered for a higher designation.
With more improvements, Yale could be in line for a Gold designation, but there is much work to be done. Adding more bike lanes and paths, calming traffic and creating safer routes for bicyclists in addition to continuing to strengthen and grow the bicycling culture on campus are needed to reach the next level.
To learn about campus biking options or request commuter counseling, visit http://to.yale.edu/bike.
By Lisa M. Maloney, Yale Administration