For the second year in a row, Yale University won the goNewHavengo CarFree Challenge prize for the most greenhouse gas emissions avoided by a large business. This annual September contest incentivizes New Haven commuters to use sustainable transportation modes including walking, biking, transit, carpooling, and telecommuting.
GoNewHavengo is a coalition of local and state partners that brings together organizations and individuals to increase the use of mass and active transportation options. The mission of the group is to promote health and well-being across the region by advancing safe, cost effective, and convenient transportation for getting into and around New Haven.
Over one hundred Yale community members - mostly employees and some students - participated in the campaign, avoiding a total of 51.41 tons of carbon dioxide emissions that would have otherwise come from driving single-occupancy vehicles. That's over 102,000 pounds – the equivalent carbon emissions of providing electricity to nearly seven homes for one year or driving 111,776 passenger vehicle miles.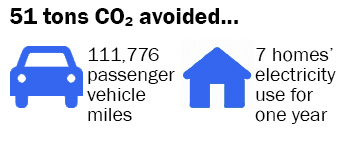 This is over 20% more emissions avoided by Yale affiliates than last year, when participants avoided a total of 42.33 tons of carbon dioxide.
GoNewHavengo awarded prizes to large, medium, and small organizations: Yale and the City of New Haven, SeeClickFix and Neighborhood Housing Services, and the New Haven Leon Sister City Project and the Yale Program on Climate Change Communication, respectively. Five individual prizes were also awarded for the most emissions avoided.
At the awards ceremony held at the Corsair Apartments on October 13, East Rock Alder Jessica Holmes spoke about the benefits of sustainable transportation beyond environmental – including physical and mental health, safety, and economy, and the role of initiatives like the CarFree Challenge in encouraging discussion and action around sustainable transportation. "Whatever it takes to get people to question all those times we're hopping in cars," she said. "Also, the kind of scale you have on foot or when you are on your bike – you get to approach the neighborhood at a different level; you get to talk to people."
Partnerships like goNewHavengo and initiatives like the CarFree Challenge will continue to play an important role in Yale's efforts to achieve its goal of increasing sustainable commuting by 10% by 2025, as set out in the new Yale Sustainability Plan 2025. In addition to the September CarFree Challenge, goNewHavengo provides resources on sustainable transportation for employers and individuals year-round. Learn more.
- By Brianne Mullen, Office of Sustainability