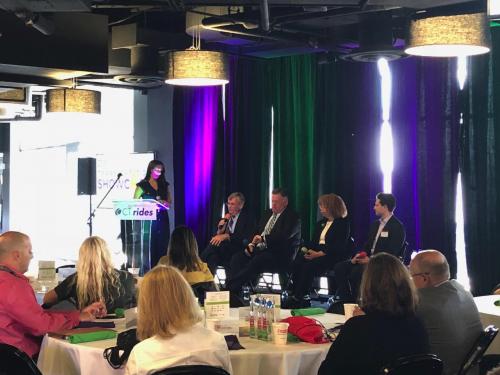 During the month of May, employers from around Connecticut participated in the Drive Less Connecticut Competition to reduce traffic congestion and improve air quality by encouraging employees to reduce the use of single occupancy vehicles. CTrides, a program of the Connecticut Department of Transportation hosted its annual Transportation Showcase in Hartford on June 6, 2018, to celebrate the success of the challenge. Yale was awarded the "Team Spirit" award for most outreach and engagement throughout the month-long challenge.
Over the entire month, the 164 Yale commuters participating in the competition recorded 8,761 sustainable trips, 74,377 miles not driven, and 67,238 pounds of greenhouse gas emissions avoided, the same amount sequestered by nearly 800 tree seedlings grown for 10 years. These commuters also saved over $40,000 by not incurring the costs of driving a single occupancy vehicle like gas, maintenance, and other expenses.
The Transportation Showcase attracted a large crowd of employers and employees from around the state and featured an impressive panel of leaders from the Connecticut Department of Transportation, the League of American Bicyclists, the Hartford Yard Goats, and AECOM. Panelists discussed topics like autonomous vehicles, the Hartford Line rail service, and bicycle education and training.
CTrides is a program that helps commuters find the best way to get to work or school and offers information and resources for travel options throughout the state. The program promotes sustainable transportation modes including carpooling, vanpooling, public transit, biking, walking, and teleworking. To learn more about Connecticut's sustainable commuting options, take advantage of a free individualized Custom Commute Plan.
CTrides also facilitates a rewards program so commuters can track their sustainable trips and earn points for every mile, then redeem those points for discounts at local, national, and online stores and restaurants. Since 2011, Yale has partnered with CTrides to offer these benefits to its employees. Over 1,200 Yale community members are registered for the rewards program.