Yale University won two awards from CTrides in 2016: one for the most participants in CTrides Week in May and another for the most trips tracked during CTrides College Month in September.
CTrides is a program of the Connecticut Department of Transportation (CTDOT) that helps commuters find the best way to get to work or school and offers information and resources for travel options throughout the state.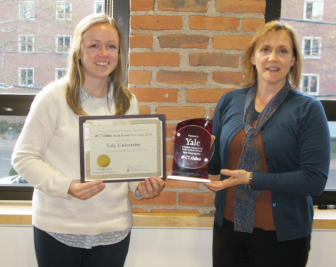 CTrides promotes sustainable transportation modes including carpooling, vanpooling, public transit, biking, walking, and teleworking. CTrides also partners with NuRide so commuters can track their trips and earn points for every mile, then redeem those points for discounts at local, national, and online stores and restaurants.
Since 2011, Yale has partnered with CTrides to offer these benefits to its employees. Over 1,200 Yale community members are registered for the NuRide program. Collectively, these sustainable commuters have eliminated nearly 470,000 car trips that would have produced 2,465 tons of greenhouse gas emissions. They've also saved over $3 million in expenses such as gas, insurance, and car maintenance.
In May 2016, CTrides held a competition among employers across the state to encourage sustainable commuting.  CTDOTT Commissioner James Redeker explained, "[t]his year's theme is 'A Better Commute. A Click Away.' and is all about making commuters aware that there are many ways to change your commute, with information available at one place, CTrides.com."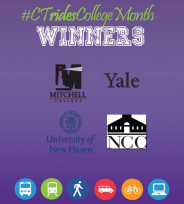 CTrides awarded participating employers in several categories: Yale won the prize for the most employees who tracked a trip. Learn more about CTrides Week 2016 here.
In addition to CTrides Week, another sustainable commuting challenge hosted in 2016 was College Month in September. This competition encouraged students, faculty, and staff to try a new commute at the beginning of the academic year. Nearly 30 colleges and universities across the state participated, with 862 sign-ups and nearly 50 events. Yale won the prize for the most trips tracked. Additional winners included Norwalk Community College for most activities and events, Mitchell College for most social media engagement, and University of New Haven for most participation.
These awards would not be possible without the efforts and dedication of Yale's sustainable commuters – thank you! Yale commuters can call CTrides at 877-287-4337 or visit ctrides.com to get a free custom commute plan showing you all the ways you can get to work or school. Don't forget to also sign up for the NuRide Commuter Rewards program and earn points for every green ride you take!