If you drive to work every day, you may not think about the impact that it has on your health (lack of exercise, reduced air quality), wallet (car payments, insurance, gas, wear and tear on your vehicle), and environment (greenhouse gas emissions and other pollutants). It may be time for a lifestyle change to shake things up a bit and start to "think outside the car." These three Super Commuters have done just that, taking advantage of a career change, a change in weather, and a surprise gift to start a healthier and more sustainable commute.
A new career, a new commute
Julienne Hadley, the Associate Director of Strategic Communications and Organizational Change Management with Yale ITS, eased into a new commute when she transitioned from her previous position at the Center for British Art. Julienne was no stranger to the University's sustainability efforts, as she previously participated in the Sustainability Leaders program and ran a departmental green team. However, she drove to work each day – she could park right behind her office, which made it a fast and convenient commute.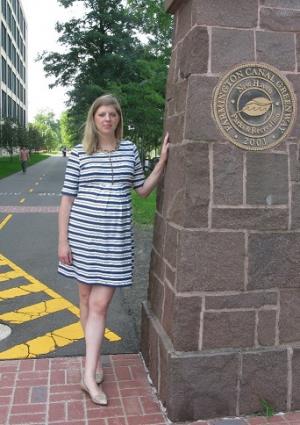 A change in address, in the East Rock neighborhood, and a change in workplace, at 25 Science Park, ultimately made Julienne think about a change in commute. "I moved closer to downtown and took a new position at Yale ITS, which made my commute about a mile and a half," she explained. "I decided at that point it was worth reevaluating whether driving was a good option based on cost, health, and distance. It seemed silly to drive only a mile and a half from home."
Now, Julienne is just a seven-minute bike ride or 15-minute walk to work and she enjoys many other benefits of her new commute. "Walking allows me to spend time with fellow colleagues, enjoying conversations and the outdoors, and prevents me from feeling the stress of driving downtown," she said. She also explained that she listens to music or podcasts on her way to work, which gives her a better start to her day. "Not only is it better for the environment, I'm also happier when I get to work."
Julienne has practical advice for others who may want to try a new commute. First, you don't have to commute sustainably every single day to be a Super Commuter. "I think it's important to remember that calling for an occasional Uber pickup, because it's raining outside or you're running late for an appointment, is completely acceptable and limits the stress of not having a car." Second, think about your wardrobe, but don't change it! Julienne enjoys wearing dresses and heels to work, so she wears a pair of comfortable shoes to work and keeps a pair of professional shoes in her office. Finally, find a commute buddy. Knowing that some of her colleagues are also walkers helped Julienne transition to her new commute – she feels safer and closer to her team when they commute together.
Being nine months pregnant hasn't slowed down this Super Commuter. Julienne stopped biking for now and occasionally drives in, but still walks to work most days and especially appreciates the health benefits of her daily walks. "I think it's really great for my health, especially now that I'm pregnant. It's hard to keep up an exercise routine the bigger you get," she explained. She is looking forward to biking again when she returns from maternity leave.
Super-commuting after spring thaw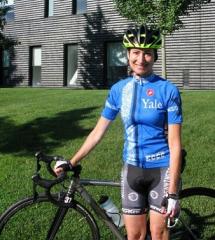 As exemplified by Julienne above, you don't have to have the same sustainable commute every day in order to be a Super Commuter. Just take Lisa Maloney, Director of Media Strategy and Project Management for Administration, who bikes to work several times a week during the spring, summer, and fall taking a break during winter's coldest months. But, no matter how cold it is, Lisa is back on her bike the first week in March and rides to work at least two days per week.
From her home in Hamden, Lisa has a ten-mile ride to campus, which takes about 35 minutes. She is able to ride on the Farmington Canal Heritage Trail, which she enjoys for both the natural environment and social aspects. "It's usually beautiful in the morning, you can see all kinds of wildlife, and you meet all kinds of people," she explained.
In fact, Lisa met our next Super Commuter while riding on the trail on the morning of this interview (more below). Although she just celebrated her 20-year anniversary here at Yale, Lisa is always meeting new people on the trail and always tries to find a riding partner for her commute. "When you have a partner you can just chat away and all of a sudden, "Oh wow, I'm home!"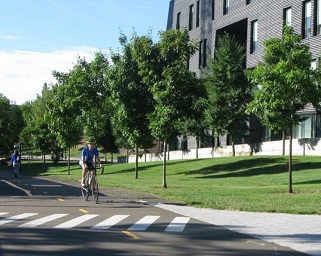 In addition to getting to know the local fauna and meeting colleagues, Lisa greatly enjoys the physical exercise provided by her commute. "I've been mountain biking and road cycling for more than 20 years, and I dislike the gym very much, so this is my exercise," she said. "I ride in ten miles, I ride home ten miles, and I don't need to do anything else." Lisa also noted the mental health benefits, explaining that "[y]our endorphins are so kicked in when you get into work; it's a great way to start the day."
Like Julienne, Lisa noted that it's not always possible to keep her sustainable commute every day, but when asked if she had a preference, her answer was clear: "I love riding my bike. I wish I could do it more often. I'm growing tired of the suburbs and would love to move to New Haven and walk or bike to work every day all year round." Lisa's plans sound like great material for a future Super Commuter article!
A gift that keeps on giving
Luis (Lou) Torres, who has been at Yale for 28 years, was Super Commuting "under the radar" until he met Lisa Maloney one morning on the Farmington Canal . As the Operating Systems Programmer for ITS Endpoint Engineering, Lou understands the need for efficiency and transitioning to new, innovative systems, whether technology-based (from mainframes to cloud-based solutions) or transportation-based (from car commuting to biking).
Lou's transition to a Super Commute began eight years ago. After casually mentioning that he might want to try biking to work, his daughter Brenda Torres, who works at the Yale Divinity School, bought him a bike as a surprise in thanks for supporting her wedding.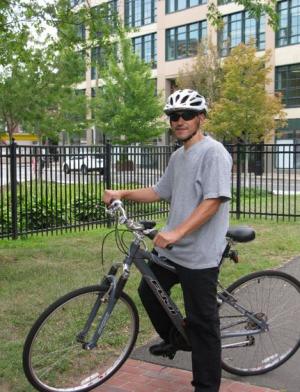 Lou noted that it was a little challenging when he first switched from car to bike, and it took a while to build up the endurance for the commute. "When I first started commuting by bike, I wasn't thinking so much about the commute itself, it was more about getting exercise. I enjoyed it, just being active; I just started doing it and it sort of became a way of life."
Like Lisa, he commutes in from Hamden and can take the Farmington Canal for most of the journey. Although he admits that the bike commute takes him a little longer now than when he was younger (about thirty minutes), Lou still rides in almost every day. He explained, "I enjoy just being out on the trail. It's serene, it's quiet in the morning. I'm a grandfather now, and sometimes I wake up with aching bones, but it doesn't stop me from doing it."
His advice for others who may want to try a new, sustainable commute is simple: "just do it." Despite the challenge he initially faced with his transition to biking, he now finds it rewarding and encourages anyone who is even thinking about doing the same to just try it out. "Now I feel awkward when I don't do it," he said. "Just the stress of getting in the car and finding parking can sometimes be more challenging than just getting on the bike."
For more information on options for sustainable commuting at Yale, visit www.to.yale.edu.
Author:
Brianne Mullen, Yale Office of Sustainability