Meet the super-commuting power couple Meriam and Brad Worzella. They have been taking the train from Madison (or carpooling) together for about 12 years.  This green partnership has given them the freedom to avoid stressful traffic and parking fees, and build exercise into their daily lives.  Brad works as an Assistant Administrator in Pathology on Cedar Street; Meriam is a Billing Manager for the Institutional Review Board (Ethics Committee) for the university.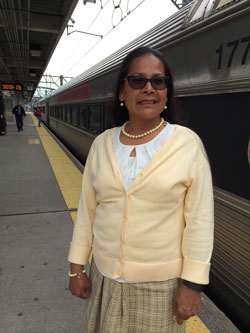 Meriam had been working at Yale a few years before Brad got hired in 2003.  Over the next four years they carpooled together. In the fall of 2007, when Meriam decided to start taking the train, Brad did not immediately join her.  "At first we didn't take the train together. Bradley thought that commuting by train would be an inconvenience and liked the freedom of having a car," said Meriam.  She too thought it might be inconvenient but decided to try it.  After commuting via the Shoreline East Train and enjoying it, Meriam suggested that Bradley try it for a week–no pressure.  He did and was immediately hooked.  
While Brad's work location has remained stable for most of his time at Yale, Meriam has worked in various departments at the Yale School of Medicine.  Each office has been at a different location across campus—making her an excellent resource for commuting advice. Asked the best way to get to 25 Science Park (SP) or 344 Winchester from the train station, Meriam suggests taking the Commuter Connection bus during the winter months to 55 Whitney Avenue, then taking the Yale Red Line Shuttle to SP or Winchester.  In the spring, she likes to walk from the train station.  When she was at Science Park, her daily round-trip walk was 5.50 miles. 
With all the fitness apps available now, Meriam realized she could get credit for all of her steps, and the calories burned along the way.  Walking to and from her current office location at 55 College, she logs about 15 miles weekly! She has walked hundreds of miles over the years, keeping fit and being green simultaneously.
Their sustainable lifestyle has had a profound effect on other family members. Daughter Zanna recently worked as a bicycle advocate for the City of Arlington, VA. Zanna is currently working as a consultant for the New York State DOT helping to reduce greenhouse gas emissions through bike, transit and carpool programs.
Author:
Lisa Maloney, Yale Administration