Susan Abramson is a living, breathing example of how flexible work arrangements bring work and life into balance. At Yale since 1996, Susan is the Manager of WorkLife and Child Care Programs where she develops and implements work-life programs, services and resources for faculty, staff, post-docs and students. She also leads workshops on Flexible Work Arrangements at Yale, as well as consulting with departments and working closely with the HR Generalists when a flexible work arrangement—including telework—is being considered.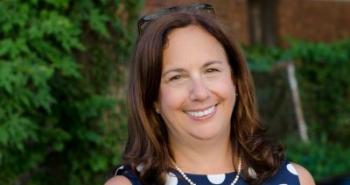 "In the late 2000s, the idea of a flexible work schedule moved away from being what had been perceived as only "a woman's childcare issue" into something that encompassed a larger segment of the population," she explained.
Abramson believes that some of the increased interest in establishing a flexible work schedule stemmed from the skyrocketing gas prices in the mid-2000s which resulted in an increase in carpooling and use of public transit. A flexible schedule allows commuters to avoid peak traffic congestion if they come in before, or leave after the morning and evening rush hours. Even better, working from home means generating no traffic congestion or air pollution as well as avoiding the costs of gas and parking. Win-win!
She was prompted to seek out a teleworking schedule with her own supervisor when Yale Human Resources relocated to a new facility where her office arrangements changed.
Now, for the past three years Abramson has worked from home once a week which allows her to have a day to stay focused and work on larger projects that require longer spans of solitary time.
Abramson takes teleworking seriously. When she began the new schedule, she emailed all of her coworkers in order to notify them that she would be completely available via phone, cellular phone and email. "I do not set up an away message, it's meant to be like any other regular workday," said Abramson.
She also sees the flexible work schedule as a two-way street. "If I have to come in for meetings, I will do so—I make myself available," she says. Living in nearby Hamden makes her flexibility feasible.
"The transition toward teleworking should be seamless," she emphasizes. "I've become more productive in many respects. I use late Tuesday afternoons to gather my thoughts, paperwork, and plan out my Wednesdays in order to focus on larger projects during my day of teleworking," she said. "Working from home allows me to spread out more in my own space," she mentioned.
"Teleworking isn't for every job or every person, I'd recommend you start with a pilot. To be successful you have to be in regular communication with your supervisors and colleagues," said Abramson.
She emphasizes that teleworking makes tasks that require long time periods of thinking and creativity easier to work on from the home office. Nevertheless, it doesn't replace the human contact of the office setting. "There's nothing better than in-person meetings and building relationships with supervisors, clients, and colleagues, that's irreplaceable," she said.
Overall, Abramson credits the three years of teleworking with deepening her understanding of managing the WorkLife Program at Yale with respect to teleworking—an unintended benefit. "Living it has given me more credibility when I'm talking about these issues—I'm very appreciative of this opportunity," said Abramson.
For more information on flexible work arrangement please visit the Yale WorkLife website at http://www.yale.edu/hronline/worklife/workflex.html.