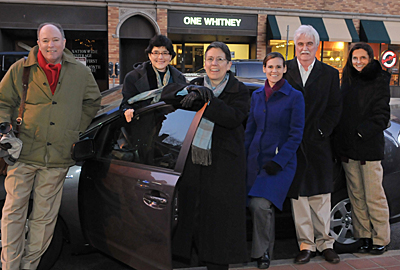 "What's said in the carpool stays in the carpool." Such is the "cone of silence" in the carpool transporting Martha Highsmith, Keri Enright-Kato, Jo Cohen, Bill Hathaway, Dan Jones, and Pilar Asensio-Manrique from West Hartford to Yale's campus.
Bill elaborates: "The cone of silence has to be explained to anyone under 40." It's a reference to the show "Get Smart" (aka:  the Las Vegas rule).
The collected group is "multidisciplinary"—consisting of an architect, a sustainability expert, a Spanish lecturer, a Science reporter, the communications coordinator for Women's Health Research at Yale, and a generalist (as Martha Highsmith modestly refers to herself).
Other guidelines of the carpool include:
Everybody meets at the house of the driver
Those with the longest legs get to sit in the front
Each member of the carpool has to keep the schedule for a month at a time
The driver gets to choose whether or not the radio is on, and the station
Punctuality on Friday (going home) is essential
The commute would take up to 2.5 hours by transit, but it's a 25-30-minute trip when Bill drives. It has included as many as 8 people, but never had all 8 people commuting on the same day. On a typical day, there are 4 passengers. Everyone drives once, maybe twice/week—spreading out the vehicle wear-and tear, and gas cost over the number of passengers. The "fleet" of cars includes 2 Priuses.
The many good things about being in the carpool include taking naps, engaging conversation ("it's never boring," says Jo), and flexibility.
What do they do when they need a car on campus during the day? "Plan ahead," says Martha. It takes some additional planning, but if she knows she has an appointment in Hamden during the day, she comes in her own car.  Keri can use the Office of Sustainability's departmental Zipcar membership  when she needs a car during the day, and Jo's office has a Yale vehicle she can use for travel on campus.
Fortunately, the carpool members' political views are aligned, as it allows for politics to be discussed in the car. Other discussion topics include, religion, sending children off to college, marriages, births, divorces, deaths, illnesses, in-laws, kids getting their drivers' licenses, investment strategies, life insurance, parents going into a nursing home, and favorite West Hartford restaurants. "We talk about food a lot" they all agree. In fact, Keri set the record once for talking non-stop (in this case about food): 45 minutes. She claims it was because she was pregnant at the time—and always hungry.
The carpoolers lives are intertwined outside the carpool too: Jo and Martha went to visit Keri after she had her first baby. Bill sometimes goes to Martha's church. Jo and Martha are in the same book club. Dan's daughter babysits for Keri. And whenever anyone needs a translator, they call Pilar.
The current project is naming Keri's next baby.
It's a community on wheels.
Three other people in Jo's office were inspired by her experience and now carpool together. You can too.