The Yale Office of Sustainability lives and breathes the idea of a greener more sustainable world – and the staff's commuting habits are no exception. Although they are spread out across different neighborhoods and cities, these seven Super Commuters manage to save money, improve their health, and reduce their environmental impact by walking, biking, or riding the shuttle, bus, or train to work.
Many of them live close to the downtown office location, taking advantage of short commutes and the convenience of nearby restaurants, shops, and other perks.
THE WALKERS or WALKPOOLERS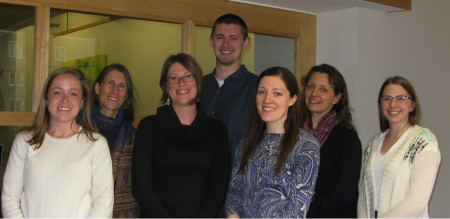 Melissa Goodall, Associate Director and New Haven native, has a 15-minute walk from the East Rock neighborhood, and enjoys listening to NPR and running into colleagues and neighbors along the way to work. "Between traffic and parking, I suspect walking is actually a more efficient way to get around New Haven much of the time," Melissa said. "We have thought about moving to a place a bit more rural, but we have opted to stay where we are largely because we can get around so conveniently on foot.  On weekends, we frequently walk to go shopping, the movies, and/or dinner with the kids."
Amber Garrard, Education and Outreach Manager, also lives in the East Rock area and walks to work. She also enjoys easy access to activities in town and it takes her just 10 minutes to get to work. "It clears my head and helps me prepare for my day," Amber said. "Since moving to New Haven, I have been able to sell my car, use Zipcar or rideshare if I need a vehicle, get more exercise, and save money."
Melissa and Amber frequently walk to work together, or "walkpool." For late workdays, they also use the Bulldog Mobile App, which allows friends and family to track their walk home, or request a Campus Safety escort to walk with them.
THE SHUTTLE RIDERS
Ginger Chapman and Brianne Mullen also live close to the University in the Edgewood neighborhood, but the climb up the hill to their homes is a daunting daily task. Luckily, the Yale Shuttle offers a quick, easy and free ride when they aren't looking to get some post-work cardio.
Ginger, the Director of the Office of Sustainability, times when she can walk to the shuttle stop from her house by using the TransLoc Mobile App. This app tracks the exact location of the Yale Shuttles and is especially handy on cold winter mornings. "It is easier and more relaxing to take the bus rather than drive - no need to deal with traffic, find parking (and pay for it) and I can instead sit back and read if I wish.  It saves me time and money and means less congestion and pollution in New Haven," she explained.
On a typical work day packed with meetings, Ginger also prefers to leave her car at home because she can get to most meeting locations by walking or taking the shuttle.
Brianne, the Urban Sustainability Program Associate, is the most recent addition to the Sustainability Office, where she supports transportation-related programs, among others. She was excited to make the move from Virginia to New Haven last fall for many reasons, including the city's great walkability and ample transit services. "As a recent graduate with student debt, I wasn't looking forward to taking on a car payment as well," Brianne said, "but now I don't have to."
When she started in her position, Brianne didn't even consider driving her own vehicle to work. "Why would I pay for gas, maintenance, and parking if I don't have to?" she explained.
THE CYCLIST
Max Knapp, a Woodbridge Fellow who assists with communications and manages outreach events, bikes to the office from the Dixwell area. "The Farmington Canal Trail runs most of the way to the office," he said, "and between one-way streets and the difficulty of finding parking, it would take longer for me drive." Max also enjoys the freedom and physical activity he gets with biking.
THE PUBLIC TRANSIT RIDERS
Sarah Jane Compton is the Senior Administrative Assistant and all-around office guru for the sustainability team and commutes from one town over, Hamden. "I use CTTransit to commute," she explained. "It only takes about 15 minutes and gives me a chance to do some light reading or catch up with fellow bus-riders."
Sarah Jane has worked at Yale for eight years and never even considered driving to work. "I have always used CTTransit to commute to work because it's faster than driving and parking, I get a little bit of exercise walking to and from the bus stop, and it's inexpensive. It also saves the wear and tear on my car," she said.
While most of the Office of Sustainability team lives in New Haven or nearby, Lindsay Toland, the Sustainability Metrics & Program Manager, has a farther commute to and from Bridgeport. She walks from her apartment to the Bridgeport train station and has a 34-minute ride to the New Haven-State Street station. From there, the Office of Sustainability is about a 15-minute walk.
"Commuting using public transit is a priority for me," Lindsay said. "One of the reasons that my fiancé and I moved to this particular neighborhood was so that we could be within walking distance of the train station. I do not mind the commute at all, and use the time to mentally gear up for the day, and unwind at the end of the day. I also like having a couple of brisk, energizing walks automatically built into my day!"
WORK-LIFE BALANCE AND HEALTHIER LIFESTYLES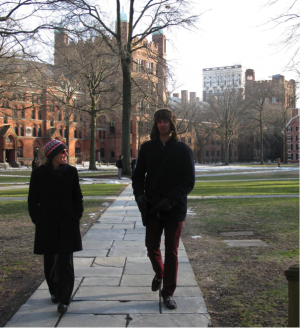 On the days when they do need a car to get around, the team takes advantage of their departmental Zipcar account for work-related trips or carpool together for a group meeting. Lindsay and Sarah Jane, as transit riders, also receive three free daily parking stays per month to use when they need their cars for an errand or need to stay late.
In addition to their daily sustainable commutes, the Office of Sustainability team also promotes a healthy work-life balance with two voluntary fifteen-minute walks around campus every day. "There are days when we think we don't have those fifteen minutes to spare for a walk," said Sarah Jane, "but afterwards we always feel more focused and ready to tackle our next tasks." Walking has many physical and mental health benefits.
While they all believe in sustainable living, the staff understands that there are limits to what different people can or want to do. "We certainly aren't required to give up our cars, but when you add up traffic, parking, gas, and maintenance costs, it's simply easier, cheaper, and more enjoyable for us to get to work without them," said Ginger.
For more information on options for sustainable commuting at Yale, visit www.to.yale.edu.
Author:
Brianne Mullen, Yale Office of Sustainability